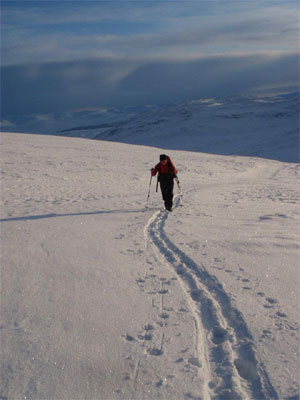 Guided Winter Walking 
These one, two or more days winter walking holidays are suitable for those who have summer walking experience but who haven't had much chance to get out into the hills in winter. Also, they are a great opportunity to brush up on navigation skills and bag a few Munros. We will look at basic navigation and  teach the basic use of the map and compass on the hill.  Navigation techniques covered include – using handrails, collecting points and tick-off features, aiming off, timing & pacing and relocation skills. Also, some time will be spent considering contour lines and how they relate to the land features we see around us, matching the map to the terrain.  Short breaks are offered in Lake District and North Wales as well as longer trips in Scotland.
Fee £: contact us to discuss your requirements and prices
Winter hill walks and skill courses Scotland
Based out of Newtonmore in the Central Highlands we have a central location to access a variety of Munros. You will have the opportunity to bag, under winter conditions, a number of classic Munro tops. The Munros provide solitude from the crowds in the Cairngoms, Glen Coe and Ben Nevis ranges. 
At  the rear of Newtonmore are the Munros of Carn Dearg 945m, Carn Sgulain 920m, ' Chailleach 930m.
At Lagan is Ceal Charn 926m. South down the A9 is the Drumocher Pass with access to Sgairneach Mhor 991m, Beinn Udlamain 1011m, Ceal – Charn 917m, A'Mherconaich 975m, A'Bhuidheanach Bheag 936m, Carn na Caim 941m and Meall Chuaich 951m.
West along the A86 to Creag Meagaidh 1128m, Carn Liath1006m and Stob Poilte Coire Ardair 1054m. From Creag Meagaidh on the A86 is Beinn a' Chaorainn 1052m and Beinn Teallach 915m. Glen Feshie provides access to the hills west of the main Cairngorms.  They are Sgor Gaoith 1118m and Mullach Clach a' Bhlair 1019m. 
We will look at the use of ice axe, crampons, navigation, snow structure and weather. You will need personal hill walking equipment suitable for winter conditions.
Ben Alder Range Winter expedition 
As something a little different and with a remote and wilderness feel then the Ben Alder range has it all. Routes and summits are similar to the summer expedition, but using the bothy as a base. If we carry in a supply of coal between us then we will then have the luxury of a fire in the evenings! The first day we mountain bike in from Dalwhinnie to the Cula bothy. From there ,in the second part of the day, we  ascend Carn Dearg 1034m M98. This gives us 2 full days  to bag Ben Alder 1148m M25 and Beinn Bheoil 1019m M112 and Geal Charn 1132m M26. We pack up before biking back out the 4th day and, if time permits, ascending The Fara 911m which is only just short of Munro status.
Please note: You will need personal clothing and backpacking (Winter sleeping bag, 65+l ruscak, head torch,etc.) equipment for this expedition. We will supply roll mat, stove, gas, food, K/F/S, plate, cup, bowl and mountain bikes.  Meet Dalwhinnie railway station.
Next expedition date is 
Winter Skills – Lake District / North Wales
Clothing & Equipment, ice-axe & crampons, Micro-Navigation & Route Finding, Avalanche Assessment , Emergency Rope-Work, Emergency Procedures and Survival Skills. Within each of these headings we will cover the skills and techniques you need to cope witht the weather conditions common in the British mountains. Contrary to popular opinion, avalanches are fairly common in the British mountains and are more prevalent on the less steep ground that walkers are likely to use.
This will include: Using your ice axe to move on the typical steep ground found while UK hill walking, self arrest in different positions, cutting steps in hard snow or ice, how to and how not to glissade, how to self arrest if you lose or haven't got an ice axe, kicking steps and good footwork, cramponing techniques, using ski poles, using ski poles for self arrest. Navigational techniques for bad weather and white out conditions. 
Course dates/Course fee contact us for details 
Winter Walking equipment
Mountaineering boots (stiff enough for walking crampons)
Gaiters
Thermals or suitable under clothing
Insulating layers – at least one mid weight and one warm fleece layer
Thick socks (several pairs)
Spare fleece/insulated jacket
Waterproof jacket (with a good hood)
Waterproof overtrousers or salopettes
Hat & balaclava
Mitts & gloves – a thin pair, thick pair & big mitts over the top!
Snow goggles
Whistle
Headtorch, spare batteries & bulb
Compass – Silva type 4 recommended
Blister kit/ small first aid kit
Vacuum Flask
Pen – permanent fine map marker
Map – OS  1:50000 laminated (We supply)
Survival Bag -Plastic type
Camera and film
Rucksack ( 50+ Litres)
Rucksack liner (or sturdy bin liner)