Snowdonia is an amazing area, full of rugged peaks and wild countryside. Some of our best days out are in this part of North Wales.
The list of high quality walks and scrambles is almost endless; Snowdon, the highest mountain in England & Wales; the Snowdon Horseshoe; a complete scrambling round of the cwm, including the arete of Crib Goch; the mountain ranges of the Carneddau and Glyders; Tryfan by the North Ridge, a scramble. Probably the best day out in the hills of England and Wales is to combine the two scrambles of the North Ridge of Tryfan and Bristly Ridge on Glyder Fach.
There also plenty of lower level walks, not only in the Snowdonia National Park, but also in the Clwydian Hills. These are  by-passed on the way to Snowdon and so often provide  a quieter day out, away from the crowds.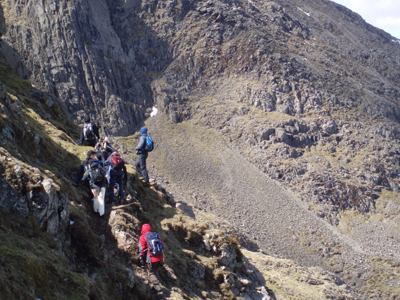 Any days walking can be combined with an introduction to navigation and map skills.  Learning how to use a compass and interpret features on the map will give you the confidence to explore on your own and, you never know, might prove useful in an emergency. 
 Contact  us to discuss your requirements.