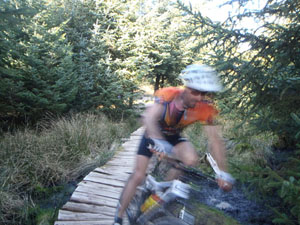 Mud, sweat, tears and effort. Experience the exhilaration of off-road action with the wind in your face, spectacular views and lots of fresh air. For the novices, why not try a ride along one of the many forest, farm cycle tracks or old railway routes? Our current fleet are manufactured by a number of different manufactures with frame sizes from 13 to 21 inches enabling us to offer the activity to the high school age range and above. Mountain Bike Fleet
They are front suspension 24 speed available in Small, Medium and Large frames.
See pictures on our Facebook page.
Adventure Day
Why not combine with Team Building / Problem Solving Exercises, Orienteering, Rock Climbing, Gorge Walking, Abseiling or Raft Building for an Adventure Day of activities?
Schools and youth groups at your site.
Why not try combining Mountain Biking (if area suitable) with Archery, mobile Climbing Wall and Team Building Exercises to make an Outdoor Education Adventure Day in your school grounds? In this way we can accommodate large numbers of participants. Please call with your numbers and we can then design a programme for your day with costs.
Mountain Bike Hire
See skill section for further information on other mountain bike courses we offer.