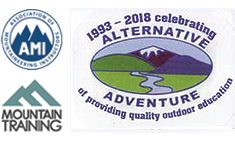 Alternative Adventure &
Outdoor activities Services
Qualified Professionals Delivering
Quality Outdoor Courses and Activities
1993 to 2022 Celebrating 29 years of providing quality outdoor education.
We deliver guided walking days or longer expeditions throughout the UK. Munro bagging expeditions in Scotland, available in both Summer and Winter. Trips to the Lake District fells, Yorkshire Dales, North York Moors, North Wales, Peak District and our very own lock West Pennine Moors and the Forest of Bowland can be arranged all year round.
National 3 Peaks, (Ben Nevis, Scafell and Snowdon) This challenge to walk the  highest peaks of Scotland, England and Wales is one of the ultimate goals of many walkers. Thousands of people have walked these mountains and you could be one of the many who will fulfill a lifelong ambition to walk the nations 3 highest peaks.This challenge will be with our qualified (ML, WML, MIA) and experienced tutors that have excellent knowledge of the areas and the walk. For information on this challenge, do not hesitate to give us a call for a chat and some advice about what can be offered with regards to undertaking this challenge as a personal or charity event. The aim for some is to complete the challenge with in 24 hours; others prefer a more leisurely alternative, taking several days to complete. This walk should ideally be attempted between May (snow may be encountered on Ben Nevis) to September, with the longest (Mid Summer) day being 21st June.
Summer Walking equipment
Walking boots /Gaiters /Thick socks (several pairs)
Thermals or suitable under clothing 
Insulating layers – at least one mid weight and one warm fleece layer including apare fleece/insulated jacket
Waterproof jacket (with a good hood) /Waterproof overtrousers or salopettes 
Rucksack (40 to 50 Litres)/Rucksack liner (or sturdy bin liner) to carry ...
Hat & balaclava Mitts & gloves – a thin pair, thick pair & big mitts over the top! 
Whistle Headtorch, spare batteries & bulb
Blister kit/ small first aid kit 
Vacuum Flask/ Food for the day
Pen – permanent fine map marker 
Compass and Map – OS 1:50000 laminated 
Survival Bag -Plastic type 
Camera and film 
Winter Walking equipment 
Mountaineering boots (stiff enough for walking crampons) 
Gaiters 
Thermals or suitable under clothing 
Insulating layers – at least one mid weight and one warm fleece layer 
Thick socks (several pairs) 
Spare fleece/insulated 
jacket Waterproof jacket (with a good hood)
Waterproof overtrousers or salopettes 
Hat & balaclava Mitts & gloves – a thin pair, thick pair & big mitts over the top! 
Snow goggles 
Whistle 
Headtorch, spare batteries & bulb 
Compass – Silva type 4 recommended 
Blister kit/ small first aid kit 
Vacuum Flask
Food for the day 
Pen – permanent fine map marker 
Map – OS 1:50000 
laminated Survival Bag -Plastic type 
Camera and film 
Rucksack (40 to 50 Litres) 
Rucksack liner (or sturdy bin liner)
Three Towers Challenge Walk 
Starting at the Rivington Upper Barn, Lever Park, Horwich and finishing at Holcombe, Ramsbottom, the Three Towers walk visits the towers of  Rivington Pike, Jubilee Tower (Darwen) and Peel Tower which overlooks Bury - the birthplace of Robert Peel.  The route takes in the best of the West Pennine Moors area of Lancashire. The distance is around 37 km / 23 miles. There is much variation: open moorland, woodland and reservoirs are all encountered on a route which is exposed in parts; you should be prepared for muddy/wet ground but you'll be rewarded with some unexpected views.  It is possible to extend this walk to Grants Tower, Ramsbottom. This is now a mound of rubble on the opposite of the Irwell valley to Peel Tower. It was up to 1945 a very ornate building, some of the features are still recognisable though most of the building has collapsed. 
The Witton Weavers Way is a long-distance 32 mile trail of discovery. 
The full Witton Weavers Way circuit can be completed in two days however, within the 32 miles there are also four shorter circular walks that can each be completed during one day, these are: the Beamers; Reelers; Tacklers and Warpers trails.
Although the official start point is Witton Country Park, Blackburn the way can be joined at many alternative points along the way.
Rossendale Way 
A high-level route around Bacup, Rawtenstall, Haslingden and Whitworth in the Rossendale Valley, crossing the open moors and farmland of the South Pennines which roughly follows the Rossendale Borough boundary. Although generally easy to follow, it does need care in poor conditions.
The Pendle Witches Way Route 
The route itself will take you from the aptly named Pendle Witch Inn in Sabden all the way through the Ribble Valley and The Forest of Bowland to Lancaster Castle. You will travel through the area around Pendle Hill known to Chattox and Demdike and all the other protagonists in the Pendle Witches story before heading North West to the scene of their fate in Lancaster.
Rochdale Way
There is no better way to really see a place than to travel around it on foot. The Rochdale Way is a new circular route around the whole of the Borough of Rochdale. It visits some interesting attractions and passes through some of the area's best-known countryside, as well as some less-well-known areas. The route in its entirety is some 50 miles long and whilst some hardy individuals may well be able to complete this in a day, for the majority it will be best to split the walk up into shorter sections. Most of the route is on public footpaths but where public bridleways are available these have been used so that some sections can be used by horse-riders and cyclists.
Burnley Way
A varied route around Burnley with a wide range of terrain, from the town centre and Calder riverside and the Leeds and Liverpool Canal towpath it passes a number of reservoirs, but it also climbs onto high moorland. It includes the Forest of Burnley woodlands and the wilder South Pennine Moors with the route's highest point at Thieveley Pike. The area's industrial heritage is revealed in places, with evidence of past limestone extraction at Shedden Clough contrasted with the nearby windfarm at Coal Clough.
There are links to the Bronte and Pendle Ways and with the Pennine Bridleway National Trail's Mary Towneley Loop.
Snowdonia is an amazing area, full of rugged peaks and wild countryside. Some of our best days out are in this part of North Wales.
The list of high quality walks and scrambles is almost endless; Snowdon, the highest mountain in England & Wales; the Snowdon Horseshoe; a complete scrambling round of the cwm, including the arete of Crib Goch; the mountain ranges of the Carneddau and Glyders; Tryfan by the North Ridge, a scramble. Probably the best day out in the hills of England and Wales is to combine the two scrambles of the North Ridge of Tryfan and Bristly Ridge on Glyder Fach.
There also plenty of lower level walks, not only in the Snowdonia National Park, but also in the Clwydian Hills. These are  by-passed on the way to Snowdon and so often provide  a quieter day out, away from the crowds.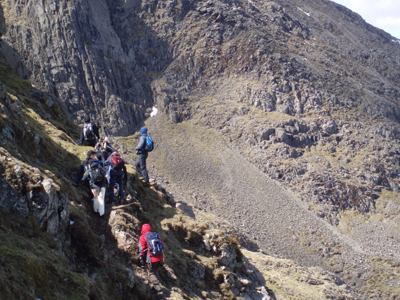 Any days walking can be combined with an introduction to navigation and map skills.  Learning how to use a compass and interpret features on the map will give you the confidence to explore on your own and, you never know, might prove useful in an emergency. 
 Contact  us to discuss your requirements. 
The mountains and valleys of the Lake District offer spectacular views that change season by season, and often minute-by-minute!  Each valley has its own flavour and each mountain its own character. While some are popular, and justifiably so, others are just as deserving but much quieter and less frequented; mainly because people haven't employed the expert services of a Mountain Leader to show them the way.
Some of the great days out and weekend trips in the Lake District include Scafell Pike, the highest mountain in England; Helvellyn via the scrambles of Striding & Swirral Edges, the Langdale Pikes via Jack's Rake, Blencathra by Sharp Edge and all of the 3000 feet high peaks of the Lakes in one weekend. The walks don't have to be as demanding as these however, and there are plenty of lower level and shorter routes that are just as rewarding and often have more interest about them.
So whatever your ambition, experience or fitness, we can arrange a day out to challnenge or enrich you, just contact us to discuss your needs. 
The Wainwrights are the 214 fells (hills and mountains) described in A. Wainwright's seven-volume Pictorial Guide to the Lakeland Fells (1955–1966)
Visiting all 214 Wainwrights is a common form of peak bagging. The Long Distance Walkers Association maintains a register of walkers who have completed the Wainwrights; At the start of 2014 the Wainwrights Register contained 673 names, including 7 who have completed this feat 10 times!
List of Wainwrights  http://en.wikipedia.org/wiki/List_of_Wainwrights
Yorkshire 3 Peaks
Probably the best known walk in the Dales, the Yorkshire Three Peaks Challenge traditionally starts from the village of horton and takes in the peaks of Pen-y-Ghent, Whernside and Ingleborough, usually in this order. Alternative starts are Ingleton, Chapham or Ribbleshead. The Three Peaks Challenge involves returning to your starting point to fully complete the Challenge.
The peaks form part of the Pennine range, and encircle the head of the valley of the River Ribble, in the Yorkshire Dales National Park.  The YorkshireThree Peaks are::
Pen-y-Ghent 691 metres (2,278 feet)
Whernside 728 metres (2,455 feet)
Ingleborough 723 metres (2,377 feet)
Most walkers would start with Pen-y-ghent, from the village of Horton in Ribblesdale where ther is a large ca park and toilets. There is  option of checking in and out at the Pen-y-ghent Cafe, who the enrol "first-timers" (who complete within 12 hours) in the  Peaks club.  For the distance: 25 miles (40.2 km) expect to be walking for 8-14 hours, depending on your level of fitness. The walk includes  1,672 metres  of ascent, obviously coming in 3 big chuks!
Any of the 3 Yorkshire peaks can be undertaken as part of our day walk programme. Thees walks will include an introduction to the map and navigation skills.
The Yorkshire Dales is much more than the 3 main peaks,  why not come along and find out more about the Dales?
Subcategories
Do you fancy a spot of Munroe bagging explore some of Scotlands finest mountains with expert guides.
Why not take a look at our other "Fun Activities"
Forest School, Geocaching, Mobile Climbing Wall , Rock Climbing, Rock Climbing and Abseiling Day, Pot-holing/Caving, Archery, Mountain Biking, Raft Building, Rock Scramble Days, Abseiling, Team Building, Canoeing River Trips, Kayak Canoeing, Gorge / Stream Walking, Sea Cliff Traversing, Orienteering, Earth Ball and Parachute Games, Adventure Days In Our Great Outdoors, Problem Solving / Team Building Exercises, Mountain Rescue Exercise